the Anti-MckMama!!!

It seems, that someone has found my blog by searching for "anti-mckmama" on Google. How awesome is that?? It may be one of the highest compliments I have EVER been paid!!!

So, for all of you MckMama lovers...this is my tribute to, well, myself really. A tribute to everything I am, that she, most definitely, is NOT!!!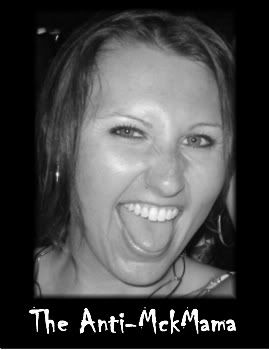 I used to think I was defined by my baby making, non-praying, temper flaring, constant swaring, Texas dwelling, often yelling, Happy Meal eating, redneck speaking, photograph taking, kidless travelling, tattoo addicted, television worshipping, Dr.Pepper drinking, deep thinking, late sleeping, nurturing the independence of my children - ways.

I may choose to still do those things, but, I will simply be the Anti-MckMama, a sinner trying to save face, wife to The One, mother of three HELLACIOUS children
.