WARNING


This post contains graphic images!!
Cletus sprung dissection on us last night. Not because the lab made an unannounced delivery of preserved fetal pigs...uh-uh!

Meet Fluffy. He once brought joy and purpose to someone's life. Until he became gravely ill and was euthanized by Cletus. Then, she lied and said she'd bury him, threw him in a cooler in the back of her truck, and brought him to class to dissect.


This, is a baby opossum. A baby opossum orphaned by his mother, who forgot to look both ways before crossing the street. What does one do with a litter of abandoned baby opossums? Why, you put them to sleep, then throw them in the cooler in the back of the truck, and bring them to class to cut up. Along with Fluffy!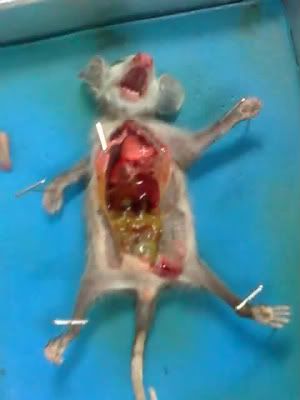 At least we didn't have to deal with the overpowering smell of formaldehyde!!