These pics are from the festival on Wednesday night...I don't know what the kids will decide to be tonight. But, I do know it won't cost me a dime! WooHoooo!

First we have a basketball player (Ave's buddy down the street) and Avery the army man...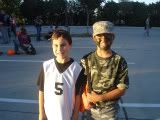 Next, the cutest witch ever who didn't want to mess up her rad red highlights with a silly witch hat...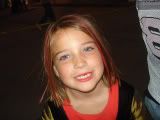 Here's Lord Sidious from Star Wars...most people probably don't even know the guy, hell I don't..and we had to do lots of explaining at the carnival...but Jack instructed me on how to paint his face and when I found a pic online to check my work...Jack did a pretty good job.

The first one is Lord Sidious before the carnival, looking rather sinister...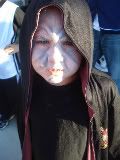 This one is of Lord Sidious when we told him it was time to leave...still looking sinister, and now scaring the bejeezus out of me....little kids are creepy when they're mad, especially when made up to look like lords of the dark side...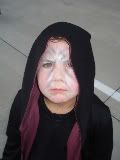 Lastly, our little hot dog...funny, he has a sinister look, as well...the "you're gonna be so pissed when you find out where I'm going to pee" kind of sinister look. Nope..that's utter humiliation...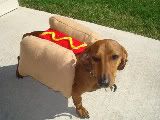 Ya'll have fun...I'm sure we will!!!