I never win anything...ANYTHING!! I DEFINITELY don't win contests. Particularly those where the winners are chosen by random generators. Or, call-in contests on radios stations...I NEVER win those.

Until yesterday!!

I was on the way home from school and I changed the radio station and heard the last little bit of a contest...

Cheesy Radio Guy: "Call in now...Caller nine gets it."

*cut to commericial*

So, I start dialing...just thinking, what the hell...why not!! The first several times is was the "All circuits are busy" crap, then on my 5th call...it rings. The dude answers...

Radio Guy: "Who'm I talkin' to?"

Me: "Uh...me?"

RG: "Yeah, YOU...who is this?"

Me: "OMG!! OMG!!! Did I win?? Did I win?? Am I the 9th caller??"

RG: *now laughing at me* "You sure are. Do you have a name?"

Me: "You've got to be fucking kidding me..."

*OMG! Did I just say fucking? Great...I finally win and now my voice won't be heard on the radio, because I just said FUCKING!...NOTE TO SELF: Get those 'How to Clean Up Your Potty Mouth' self-help tapes I saw online!*

Me: "Oh...Sorry...um..."

*quit saying UM...FOR CHRIST'S SAKE!!!*

Me: "Nikki...My name is Nikki. OMG...I can't believe I won...I never win!!"

RG: "Well, you won today...and on June 11th, you're going to the MMA match at Dr.Pepper Park."

*Yum...did he say Dr. Pepper?*

Me: "MMA?? Dude, I don't even know what that is..."

*now I'm sounding ungrateful*

Me: "...BUT...I still want it. Because I'm so excited I won!! WOOHOO!!"

*Did I just WOOHOO?? Great! I'm such a redneck...I'm just like all those other redneck Texans who end up on the news or radio and sound like backwoods, inbred, morons...yeah...now that's ME!!*

RG: "MMA is Mixed Martial Arts...Cage Fights...UFC...you've heard of that, right?"

*Are you fucking kidding me?? I finally win something, and it's tickets to a GODDAMN CAGE FIGHT!! You mean like this: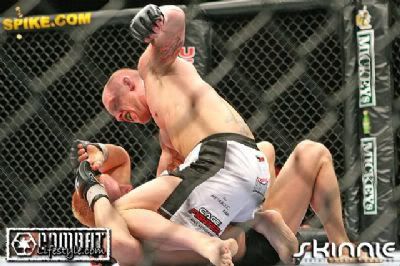 PHOTO FROM HERE.
Me:
"Oh...OK...I'll take my boy. He loves that kinda stuff."
RG:
"Uh...I don't know if it's for kids...it's pretty violent. I mean, they're really fighting...I don't know if I would take a kid."
Me:
"Dude...you obviously don't know me!"