Hi! My name is Nikki. We haven't met. I've seen you up here at the school a few times...class parties, field day, awards assemblies, you know...all the bullshit events that we feel obligated to come to just because we're SAHM's.

*awkward silence*

Hahahahaha! I'm kidding...kind of.

*awkward-er silence*

Anyway, I couldn't help but notice...but, it looks as if there might be a stick up your ass. I'm not completely sure, but I've met mothers like you before. Look at you! You walk in here with your high heels, pressed clothes...which is always a cooridinating outfit, nonetheless...hair done just right, earrings, necklace, and even makeup for the love of all that is sane! That's incredible. I'm lucky if I get out the door with a matching flip-flops, my hair thrown in a pony-tail, and clothes that aren't visibly dirty.

I suppose he's yours. That one...the one that looks like he has a tiny stick up his ass, too. They don't fall too far from the tree, do they? Hahahahah!!

He looks so angry...it must be hard for him to live up to your expectations. You know...keeping that fucking part in his hair just right, his shirt tucked in, keeping dirt off his sneakers, all his I's dotted and T's crossed. Bless his heart, it has to be frustrating for him.

Let me guess...that's his project over there. The Cape Cod style bungalow that in perfect scale, hue, and functionality, and looks like it might be something that a prospective architect might submit to a developer. Nice work...he did that all on his own, huh??

Oh, Lily's?? Her's is the one made out of macaroni, Fruit Loops, and juice boxes. Yeah, that one. The one with dried glue all over it, and Darth Vader on the roof. That's hers. I didn't help her one bit on hers, either.

Which one is she? She's over there...wearing the T-shirt that is a little too small, her brother's basketball shorts, and one pink sock and one purple...that's her. She dresses herself!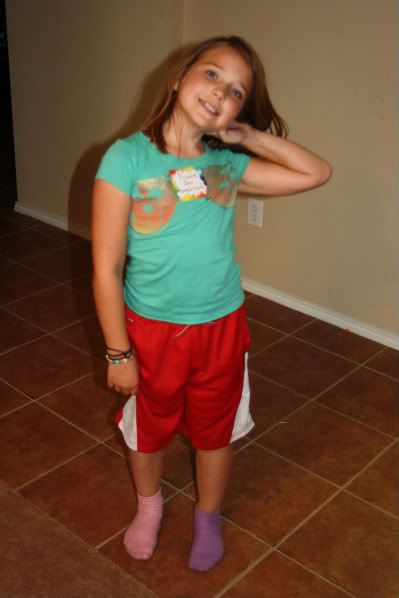 Oh...these are your little girls? I should've known...Crisp matching dresses, 18 pony-tails between the 2 of them, and 14 hair bows...ADORABLE!! That little one looks a little pissed off, too. She hasn't quit screaming since you guys got here. It's actually a little annoying.
Maybe you should try being a little more stern with her. I hear you talk in that sing-song-y condescending voice to your children. The voice that
most
people reserve for
other peoples
children. You know the one they use when their tongues are bleeding because they are hiding what they really want to say. You don't have to do that, you know. Watch this...
"Jack...if you eat one more Fruit Loop off of your sister's project, I'm going to take you in the hallway and rip all the hair out of your head. Got it?"
See...no big deal. You should try it. Go ahead. No? Alright.
Anyway...well, it was nice chatting with you. We should set up a 'playdate' for the kids...we could have coffee.
No...wait...I'm NOT free on Friday. Oh, Jesus!! I was TOTALLY kidding...I don't do 'playdates'. I was being sarcastic...it's my thing. But, hey...if you're free...maybe you could watch them for me while I do some stuff.
Nah...nevermind. You'll probably be busy scrapbooking, or baking for a potluck at the church, or psychologically damaging your