It's coming.

No matter how deep I dig my heels into October, it's coming to an end. I'm sure November is gonna do the same damn thing. Then, December will come along, thumbing her nose at me, as she whizzes right by!

Yes, December is a she...cuz she's a bitch!!

I lovelovelovelove spending time with family and all the good food during the holidays.

That's it!!

I hate every other part of it!!

It's ridiculous. I bet if Jesus were here, he would even think it was a little silly. I always hear, "Jesus is the reason for the season." I call bullshit on that.

I can guarantee that kids only have their minds on one man during the holidays...and sorry, Jesus, that man is Santa!!

I can also guarantee that Jesus was the furthest thing from my mind last year when I had a glass or two, too much wine, and verbally assaulted my SIL, over a giant chartreuse purse, during a Chinese gift exchange. We're still cool, though. It wasn't the first time it happened...and it likely, won't be the last!

Speaking of Chinese gift exchanges, no one was thinking about Jesus when Jake and I someone wrapped up a GI-normous summer sausage and two cheeseballs up, to look like...well, the male genitalia, because we thought it was hilarious they were sick and twisted!! And the rest of the family wasn't thinking about Jesus either, when they gave it to Jake's grandmother to open!!

I digress...

Alas, there is one more part of the holidays that I heart. It's actually my fave-avorite part of all...

HOLIDAY CARDS!!

We plan these year/s in advance because we have so much fun. The kids love it, and it's a blast seeing what we can come up with each year!

Here are the last three year's cards...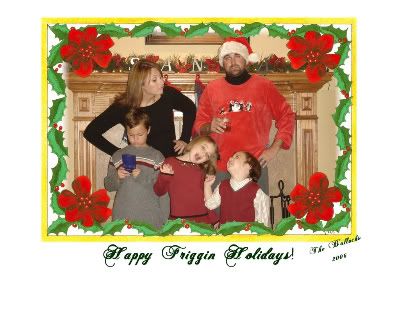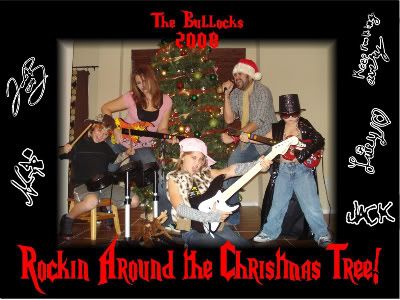 Last night we photographed and I worked on this year's Christmas card! Dude, I'm stoked!
I was talking about it on Facebook, and people were calling me 'over achiever' and 'show off.' I would like to address those claims.
First, I am anything BUT an over achiever. I have, and from what I can tell, always will, do the bare minimum to squeak by. I set goals and work for them. However, I will slack off in the beginning, but finish HELLA strong!! It's just how I roll, yo. I'm lazy. Lazy people are NOT over-achievers!!
Second, the claims that I'm a 'show off.' Well, that may be partly true, but these holiday cards are the only joy I get out of the season. I hate Christmas. All the shopping, all the wrapping, all the stress, the financial drain, all the 'I want this, I want that'!! Ugh...it makes me clench my teeth just thinking about it!! Anyway, these cards are my most favorite part...so, maybe I'm showing off. But, Dammit Jim, just let me have my moment, 'kay?!
I'm dying to show you 2009's card, but, I think I should
at least
wait until after Halloween to get them out!!
Oh, yeah! That reminds me. Some of you bloggy friends of mine, have become well, friends. If you would trust me, and you don't think it's too weird, I'd love to have some of your addresses for when we send out cards. If you wouldn't mind emailing them to me.
I guess if you
don't
trust me, and you
do
think it's too weird...then, we just aren't that good of friends, now are we? And, I'm hurt!