Melissa over at Home is where your story begins tagged me and I thought I'd play along. I was instructed to pick the 6th folder and the 6th picture in it...and lo and behold, this little gem pops up....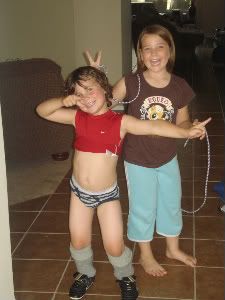 Now BOTH of my sons will hate me!! And please...let me explain!!!
This one was taken a year ago...our weeknights were hectic with all 3 kids in soccer and practices on Tues thru Fri nights. Homework, dinner, getting ready for the next school day and geared up for soccer practice all took place in about an hour and a half on practice nights. Very crazy, very rushed, the kids got themselves ready while I did dinner and checked backpacks and folders and we met The One in the driveway when he got home from work to load up and head to practice.
One particular Wednesday, I was in the truck yelling for the kids to come on...we were running late (as usual), I was trying to load everyone up and this is what The One Who Gets Away With Murder came out of the front door wearing. The kid wasn't joking...he was dead serious...he only realized his fashion faux pas when his sister was on the floor laughing at him!
Part of me was scared to death thinking...
OMG...this has to have been what Richard Simmons looked like as a kid!!

That was too much...I immediately searched for justification, thinking...
The little guy might have brain damage...he falls a lot and hits his head on walls, doors and cement...pretty much daily. He just may have knocked the "put your pants on before you leave the house" memory cells out of his pretty little head.
I finally resort to telling myself that he's always been a little different...maybe he'll be the "life of the party" type person...you know maybe he's more Will Ferrell rather than Richard Simmons.
Yeah...that's what it is...it has to be.....right??!!??
Rather than pass it on specifically...anyone who wants to play, go for it. But, be careful...you never know what's lurking in those old folders!!