It's Thursday...so, I hopped over to MammaKat's for something to blog about!

The Prompts:

1.) Write a limerick. I'm sick and I just woke up...I don't think so!!

2.) Normal is... Like I'm qualified to answer that!!

3.) Describe a memorable camping experience. This is the one!!

4.) What's the best thing that has happened this week? It's not over and I'm banking on Friday to be my best day!!

5.) Did you have a childhood hideout? Where? Describe it. When I recall my childhood...it only brings pain!!

6.) Words that hurt me. Sticks and stones, baby!!

I posted this one way back when I started my blog...but no one was reading it then...so, I figured I could get away with reposting it.This is the last camping trip we took...it was Father's Day weekend, last summer. It was hot...I mean hot!! Even for Texas it was hot!!! It was most definitely memorable.

Another Bullock family camping trip...another comedy of errors!

This is how it went down....

Hour 3: It didn't take long for The One Who Gets Away With Murder to get himself into a pickle. We hear horrible shrieks from the hill behind our campsite...he had fallen into a cactus, tried to get the spines out on his own and now had them in both arms, his leg and his stomach. It took about 30 minutes for The One and I to pull each of them out with the tweezers.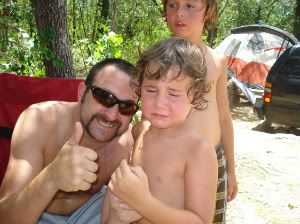 Hour 8: Familiar shrieks from behind the campsite...a little softer and a little higher pitched. The One Who Doesn't Say Much fell into a cactus. I thought I remembered hearing something about using duct tape to help remove the needles of a cactus. We tried it and the child went nuts...hysterically crying. Got out the trusty tweezers and after another 30 minutes...she was spine-free! I later remembered that the duct tape is good for removing fiberglass and definitely NOT good for removing cactus spines. Ooops...my bad! Sorry sweetie!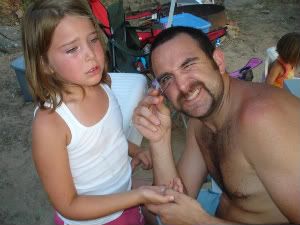 Hour10: We try to light the lantern...it's not working right and the batteries are dead in the flashlight. It's dark and we can't see a thing! After making S'mores in the dark, we decide that since we can't see and we're all worn out, we should turn in. Our air mattress is flat! To add insult to injury...the fan had fallen in the dirt during the day and it is now louder than a Harley Davidson. The kids hardly notice, but Jake and I decide to sleep in the back of the suburban.
Did I mention it was the hottest weekend in the year? It was...record high temperatures in Texas...we're talking like 105ish!!! The next morning we canoe, sweat, swim, eat, sweat, fish and sweat some more!
Hour 30: While listening to fish tales from their fishing trip, I notice something on The One Who Knows Everything's arm. It's a tick! Ewwww! I remembered hearing something about burning the tick so it will retreat and the head won't get stuck inside you when you pull it out. We fire up one of the marshmallow roasters on the grill to try to burn the tick. The boy is freaking out. Let me say this...people use the term "freaking out" pretty loosely. People are always talking about people "freaking out". Well, I now have seen someone actually "freaking out" and it's a little sad and uncomfortable to watch! TOWKE can't sit still long enough for us to burn the tick, so we resort back to the tweezers. We pull the thing out and hope that the head comes with the body.
At this point in the weekend....we're hot, we're tired, The One Who Doesn't Say Much and The One Who Gets Away With Murder are still finding cactus spines all over, The One Who Knows Everything might have Lyme disease and we just may all have to be re-hydrated intravenously. For the first time ever, we cut our trip short and at 11pm begin to disassemble our camp...we throw everything in the suburban, and in record time...we head HOME!
Moral of the story: Don't waste your money on an abundant amount of expensive camping equipment. Flashlights, lanterns, fans, air mattresses, tents...who needs them! You can buy the most important camping tool at any drug store for about a dollar. DON'T FORGET THE TWEEZERS!