It's gotta be around here somewhere. I know when I lost it...and where I was when I lost it...but, I still can't seem to find it.

This has been on my mind a lot lately...especially now that I've been poking around the blogosphere. Reading blog after blog about sick kids and dying babies...it seems that around here, compassion is contagious. I, however, seem to be immune.

Don't get me wrong...I don't wish bad things on people. I promise, I don't. I consider myself a good person and wishing ill will on another is just plain mean. But, when I read these stories of pain and loss...I am not consumed by compassion. I am not filled with the desire to take away their pain. I am not compelled to drop to my knees and beg for God's mercy.

I'm afraid that the death of my son left me somewhat hard-hearted. I'm not emotionless, though. I am able to feel empathy for others...but, only in the sense that I acknowledge the pain and/or suffering with a big ole, "Wow, you were dealt a shitty hand...life's a bitch, ain't it!"

I've said it before...that I feel lucky to have had the experience I did with Joey...so, I don't think it's a bitterness or anger that I feel. Just an understanding that prayers aren't always answered...problems can't always be fixed...and whether we like it or not, people get sick and eventually everybody dies.

Kinda...in a round-about sort of way...like this children's book: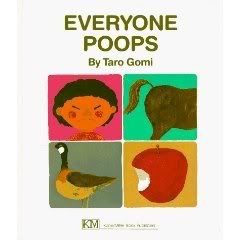 Everyone poops...and everyone dies! Two things that we
ALL
have in common!
I apologize for the fecal analogy and the morbidity of this post!
Signed,
Wednesday Addams