This probably isn't the coldest story ever told, but it is graphic, and gross, and inhumane, in some cultures unethical, sad, bloody, and someone dies at the end. And it's about rats. Not our well loved and missed Marly *pour one for muh homie* but, wild rats. And you've seen how we treat rats around here. We're ruthless. RA-HU.THLESS!

You've been warned...

I prefer any rats that I encounter, to be without a pulse! It's the only thing that will stop the scurrying.

Truthfully, I'm even afraid of dead mice. Ya know...on the off chance that Jesus decides to perform that miracle I've been asking for, and he resurrects the damned thing, bringing the bugger's scurry back! Totally irrational fear. I know. I'm working on it. My therapist thinks we're close.

We have every intention of being humane...and do our best, but, for some reason, our methods of terminating the rats, usually end with it dying a slow, miserable, painful death.

This rat was GINORMOUS, and was sitting by our back sliding door, teasing the dog. Tucker was going insane. As was I. For the sake of our emotional and psychological stability, the rat had to die.

We knew from past experience, that the airsoft guns couldn't handle a job this big. It could barely handle a tiny little run of the mill mouse. This mofo was GINORMOUS!

I'm totally not exaggerating. From his head, to the tip of his tail, was probably about 10 inches! And I'm not talking about what Jake would call 10 inches. Uh-uh. I'm talking about a REAL. TEN. INCHES.

We decided on the BB gun, for a quick, painless kill, in order to be more humane to the furry little bastard who, in my book, the world could do without. I know. I know. The circle of life, and all that jazz...

My brave husband laid on the patio and saw the rat underneath the grill. He had the shot. He aimed. He fired. In an instant, the BB shot out of the gun, hit it's target, bounced off the patio, shot right back at us, in front of Jake's face, and hit our inflatable hot tub. Yes. We have an inflatable hot tub. And it's awesome!

I temporarily forgot about the rat, and was deeply concerned about my hot tub. I was yelling at Jake, "Holy Shit, we forgot about the tub. You better not have popped a hole in my tub!" Jake says, "Oh shit! Damn, we did not think about that."

Meanwhile, back at the ranch...

The dog was going BATSHIT CRAZY, as was the writhing, flopping, profusely bleeding, rat, with a GSW to the head. Blood was flying, as the dog grabbed the rat. I freaked out, "DO RATS CARRY RABIES. TUCKER IS DUE FOR A RABIES SHOT. WHAT IF HE GETS RABIES? IF HE GETS RABIES WE HAVE TO KILL HIM." Jake was yelling at me, and with me, "NIKKI, WILL YOU CHILL!! TUCKER, DROP IT. DROP IT." Like a good dog, he relinquished the rat and ran for the back door. He was terrified, and shaking. As was I.

We watched the thing flop for a few more seconds, Tucker and I from inside the house, Jake and the rat on the outside. Then, like a whisper, he went to be with the lord. Alright, so, it was more like a blood curdling shriek of agony and despair...but, he's nowhere near my effing house at peace now, that's all that matters.

This is Jake, and his kill...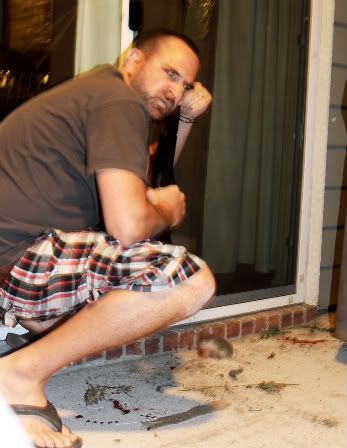 This is the evidence...
He was DOA, and forensics have shown that upon the bullet's entry, the rat's head went back, and to the left.